Credit Card
MasterCard Black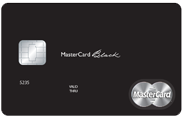 More than a credit card, MasterCard Black is a powerful tool for a select group of people, in general high-level executives and entrepreneurs, which need a payment tool that can be easily identifiable, offers a special treatment for the card holders and extends exclusive benefits.
The MasterCard Global Service program extends to the customers its service infrastructure around the world. Available to all MasterCard cardholders who are traveling outside their home countries, MasterCard Global Service provides unprecedented emergency customer service—anytime, anywhere, and in any language. MasterCard Global Service gives cardholders access to the following services provided by their issuers, MasterCard, and third-party service providers.
Lost/Stolen Card Report (LSR)
Emergency Card Replacement (ECR)
Emergency Cash Advance
MasterAssist™ Black: Provides all of the benefits of MasterAssist Plus—cardholders are covered up to USD 25,000 (€30,000 in Europe in compliance with the Schengen Agreement) and dependents for up to USD 15,000 (€30,000 in Europe)—and also includes special travel insurance coverage for:
Baggage Loss—up to USD 1,200
Trip Cancellation—up to USD 1,000
Trip Delay—up to USD 200
Priority Pass Airport Lounge Access: The program Priority Pass offers access to over 600 airport lounges in major airports in more than 100 countries and in more than 300 cities around the world, with all privileges. Regardless of the airline, if the customer is a frequent flyer or class of ticket purchased, customers can enjoy all the services offered in the VIP room.
Tips for safe use of your Credit Card:
Sign your credit and debit cards in permanent ink as soon as you receive from your financial institution.
Never lend your card to others or allow strangers consideration under any pretext.
If you forget your password and need to write, save the note to a different place on the card in order to reduce the risk in case of theft or loss.
When making payments with your card, do not let it escape their control and take care that nobody notices the password entry.
Never throw the tickets in a public wastebasket. When disposing of the tickets or old statements, be sure to destroy the parts where the number of counts.
Review and verify your statements frequently to ensure they accurately reflect the activity in your account.
Always ask the way of proof of purchase and, before you sign, verify the declared value of the purchase.
When changing the card, destroy the old card, turning off the magnetic strip and / or chip, numbering and location of the firm.
In travel, if not using the card, leave it stored in the hotel safe.
Never provide your bank or card by phone, even if you have initiated the call, unless you can successfully verify that the call is legitimate and that there is a real need to disclose this information.
Keep a list of all bank accounts and credit cards in a safe place so that you can quickly call the issuers and inform them of the loss or theft of your cards. Include the phone number of the customer service center.
In case of loss or theft of your credit card or debit card, immediately contact Customer Service at 0800-891-3665 (from Brazil) or + (507) 263-4550 (other locations) and ask for the cancellation.
The FPB Black MasterCard Debit/ATM Card is issued by FPB Bank Inc., pursuant to a license agreement by MasterCard International Incorporated. FPB Bank Inc., is not affiliated with, nor does it endorse, MasterCard International Incorporated.
More information:
www.mastercard.com/tt/personal/en/findacard/credit_cards/black/black_card.html


FPB gives its clients a fast and flexible service, using a variety of instruments to access the markets.


Complementing its Private Banking platform, FPB provides a wide variety of investment products through its Broker Dealer.