Credit Card
MasterCard Black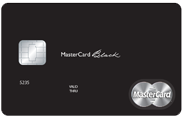 More than a credit card, MasterCard Black is a powerful tool for our select group of customers, a method of payment accepted worldwide, providing special treatment and exclusive benefits to the cardholders.
Being aware of the importance of security for our customers, the MasterCard Black issued by FPB Bank offers the possibility of buying a Fraud Prevention Insurance and the possibility of sending an instant message to cell phone or e-mail for confirmation of transactions.
The card has an associated comprehensive insurance package and services from MasterCard (read more...)
Credit card statements with detailed information are available monthly through our internet banking.
To obtain more information visit: www.mastercard.com
Tips for using your card safely
The MasterCard Black credit card is issued by FPB Bank Inc. pursuant to an agreement with MasterCard International Incorporated. FPB Bank Inc. is not affiliated with neither endorse MasterCard International Incorporated.

FPB Bank accepts several types of collaterals for a loan, can be cash, real estate or securities.


FPB Bank provides a wide variety of investment products through its broker dealer.